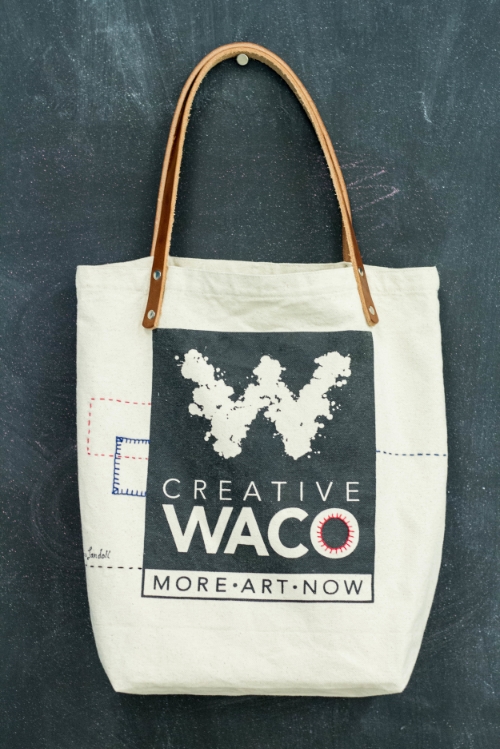 Bag Sales
Fully Customized Tote
The sky is the limit for customization! We can dye or paint the entire bag, give you a luxurious real leather handle, paint the logo in custom colors, add names or monograms, and much more! After you've placed your order, email info@creativewaco.org to start the design process!
Bag price — $20
Leather Handles by Hammer & Hand — Add $40
Custom Painting of Logo Area by Local Artist — Add $40
All-Over Painting on Front (includes logo area) — Add $55
All-Over Painting on Back — Add $55
All-Over Painting on Front & Back (includes logo area) — Add $75
Leather inserts, labels and monograms — Prices Available on Request
THIS IS NOT JUST A BAG—IT'S A VISION FOR OUR CITY!
It's an original, collaborative work of art designed by one local artist and personalized by another.
When you make this work of art yours, when you carry it and tell your (naturally envious) friends about it, you are playing your part in growing Waco as a creative hub.
Money raised by selling these bags will support Waco's bid to be a Texas Commission on the Arts Cultural District. That will help us to grow our artistic and cultural life, and tell the world. When you make this yours, you are saying, "Count me in! I support this vision for Waco. I believe in our city's future as a hub for arts and culture and I want to play my part."
MORE - ART - NOW
12oz. organic cotton canvas | 15" W x 17" H x 5" D
Large enough to carry 6 bottles of wine!
Leather-look black handles
Pick up your online order at: Art Center Waco, Art Forum of Waco, and Anthem Studios.